MEDICAL FIELDS
Attractive medical fields of study - choose a promising vocation for yourself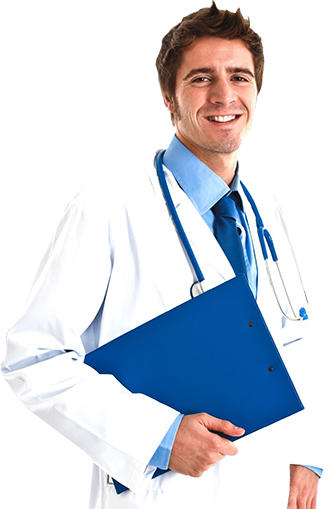 TWO-YEAR
Dental hygienist
Dental hygienist – daily mode, 4 semesters
Program framework – high school
Vocational qualification: Z14. Conducting preventive and curative activities under the supervision of a dentist, and maintenance of a dentist's office to keep it ready for work and promotion of occupational health.
Tasks of a dental hygienist:
Conducting hygienic and preventive activities,
Determining the role and tasks of dental prevention,
Conducting health-related education,
Promotion of health in different environments,
Active assistance in dental procedures,
Making preventive and curative treatments under the supervision of a dentist.
The dental hygienist course lasts 2 years (4 semesters), and includes theoretical, practical classes, as well as student training in dentist's offices. A dental hygienist can find work in dental offices of public health care institutions, private dental clinics, dental clinics and health prevention clinics, and pre-clinical help in kindergartens and schools.
Baby-minder
Baby-minder – daily mode, 4 semesters
Program framework – high school
Vocational qualification: Z.11. Providing care and support services for development of children
Tasks of a baby-minder:
Keeping a child safe,
Caring for a child's needs in the absence of parents,
Performing activities related to childcare,
 Running caring and education activities,
Promoting health and prevention activities,
Developing a child's artistic sensitivity.
A baby-minder is responsible for a professional care of young children. A baby-minder's task is primarily to ensure the safety of children and to take care of their needs in the absence of parents. Graduates of this field of study can work in day nurseries, kindergartens, orphanages and childcare centres. They can work as a nanny, hired by parents while they are away from home to take care of their children. It is important to have predispositions to work with young children and a good health condition. Young children are particularly susceptible to various types of infections, so people who are often ill are not the best candidates for this type of work.
Massage therapist
Massage therapist – daily mode, 4 semesters
Program framework – high school
Vocational qualification: Z.1. Providing massage services.
Tasks of a massage therapist:
Making various types of massage,
Using different techniques and methods of massage depending on doctors' recommendations, types of illnesses and conditions of patients,
Observing and assessing patients' responses to treatments applied and modifying massage techniques,
Using medical equipment and devices applied in massage,
Providing first aid during life and health hazards.
Regular use of massage brings relief. It improves the mood, corrects existing skeletal changes, skin is oxygenated and blood supply is better, we feel less tension in the spine, back and neck. Generally, we are healthier and more joyful.
The massage therapist is prepared to make therapeutic, cosmetic, sports massages, some physiotherapeutic treatments and healing gymnastics. Taking care of the comprehensive preparation of students for the profession, when teaching we focus on practical activities. As a result of training in the profession of the massage therapist, the graduate acquires the right to work in sports clubs, health centres, hospices, SPA.
ONE-YEAR
Dental assistant
Dental assistant – daily mode, 2 semesters
Program framework – high school
Vocational qualification: Z-15. Assisting the dentist and keeping the office ready for work.
Tasks of a dental assistant:
Preparing the office ready for work,
Completing sets of basic preparations,
Preparing patients for treatments,
Communicating with patients,
Keeping documentation and making administration activities related to the operation of the dentist's office,
Using and maintaining dental appliances, devices and instruments.
A dental assistant can, among other things, use, store and maintain dental appliances and instruments, prepare dental materials for fillings and impressions, and keep dental records of dental work and dispose of used medicines and medical devices.
Medical caretaker
Medical caretaker – weekend mode, 2 semesters
Program framework – high school
Vocational qualification: Z.4. Providing services to a sick and dependent person.
Tasks of a medical caretaker:
Recognizing and solving care-related problems of a sick and dependent person,
Helping a sick and dependent person.
Co-operation with a care and therapeutic team,
Assisting a nurse in carrying out nursing treatments,
Maintenance of tools and equipment used in nursing procedures.
Subjects in the 1-year cycle of education:
Understanding psychology, pedagogy and sociology,
Anatomy, physiology and pathology,
Public health,
Caring for a sick and dependent person,
Hygienic treatment workshop,
Understanding law and economics,
Practical classes,
Professional practice.
Graduates will be able to find employment in hospitals, care and treatment centres, social welfare centres and homes, non-public health care centres, provide individual patient home care, in community support homes and foundations and associations working for the sick and the disabled.
Technik sterylizacji medycznej
Technik sterylizacji medycznej – tryb zaoczny, 2 semestry
Podbudowa programowa – szkoła średnia.
Kwalifikacja zawodowa: Z.20. Wykonywanie dezynfekcji i sterylizacji medycznej
Zadania technika sterylizacji medycznej:
Kwalifikowanie sprzętu i wyrobów medycznych do procesów mycia,
Dezynfekcja i sterylizacja; przeprowadzanie mycia,
Dezynfekcja i sterylizacja przy użyciu odpowiednich metod i urządzeń,
Przeprowadzanie kontroli procesów dekontaminacji oraz prowadzenie dokumentacji mycia, dezynfekcji i sterylizacji.
Technik sterylizacji medycznej to nowy zawód medyczny, który powstał w odpowiedzi na potrzeby rynku pracy w Polsce i Unii Europejskiej. Celem pracy technika sterylizacji medycznej jest zapewnienie odpowiedniej czystości mikrobiologicznej sprzętu używanego do diagnozowania i leczenia.
Technicy sterylizacji medycznej znajdują zatrudnienie w placówkach zajmujących się wytwarzaniem sterylnych  wyrobów medycznych w warunkach ochrony zdrowia:
Działy centralnej sterylizacji,
Centralne sterylizatornie,
Lokalne sterylizatornie,
Punkty sterylizacyjne,
Gabinety stomatologiczne,
Gabinety kosmetyczne,
Niepubliczne zakłady opieki zdrowotnej,
Gabinety kontraktowe,
Nowoczesne sterylizatornie Unii Europejskiej.